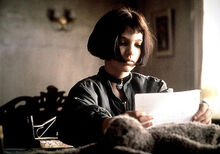 She is not a character in canon.
Variably spelt Rifka, or Rivka bin-Devorah, or Rivka bint-Devorah, her name eventually settled down as Rivka ben-Devorah in the tale Gap Year Adventures . The author blames this on the variable nature of transliterations from Cenotian, a language with a different orthography and a different somewhat shifting attitude to the use of vowel sounds. In any case, her patronymic name is actually Rivka Bechstein, but she prefers the matronymic ben-Devorah, "daughter of Deborah".
She first appears in The Four of Swords, referenced by a very young Mariella Smith-Rhodes as a fellow student in Black Widow House with a somewhat combative attitude. Her personality develops over several more tales, in which she emerges as a Scary Mary. Hyperemesis Gravidarum sees her emerge as a lethal weapon, and the adult version comes out during a tour of the Klatchian continent in Gap Year Adventures.
Likened in looks and beauty to an obscure Roundworld actress called Nathalie Portman, Rivka is a Cenotian. Her looks draw men in. Discovering she is an Assassin, they tend to back out as quickly. If they can.
She is close to her former teacher Johanna Smith-Rhodes, and a mark of her favour is that Johanna's older daughter Bekki is, indirectly, named after her. Only one thing has been recorded that has the power to scare her: Yenta Goldberg.